Vanderstyne Toyota Acquired By West Herr Auto Group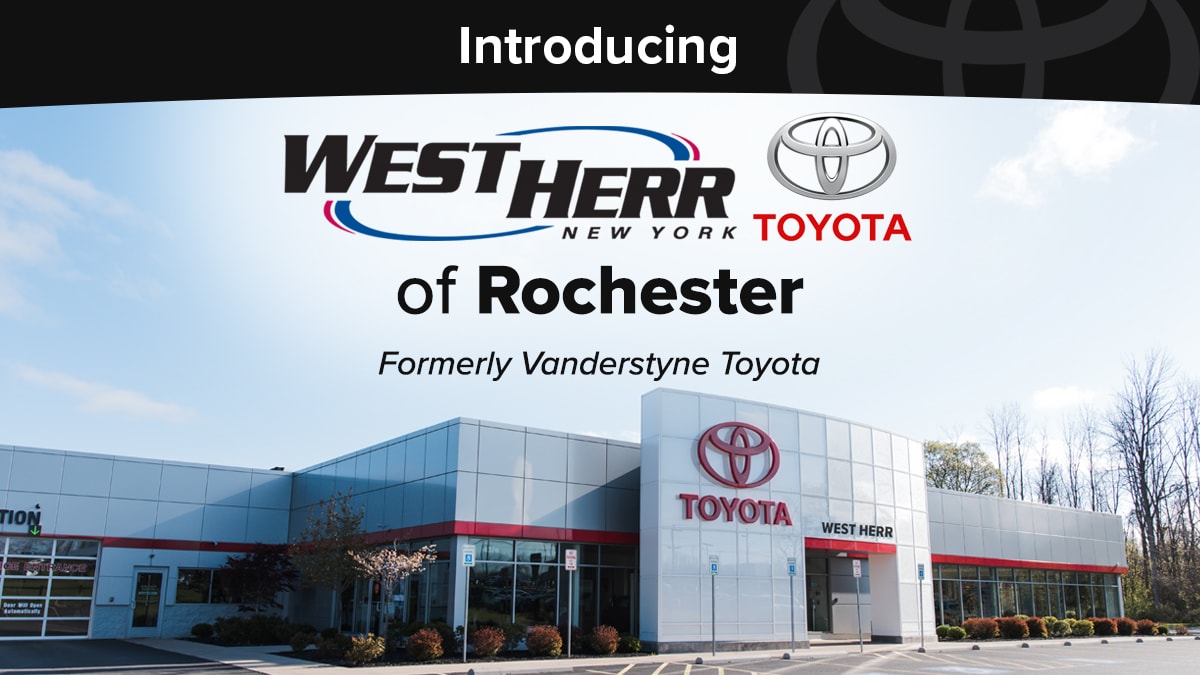 We are pleased and excited to announce that West Herr has acquired Vanderstyne Toyota owned by Jay Vanderstyne and Jay Jay Vanderstyne.
On Monday, May 3 West Herr Toyota of Rochester will be open for business, located at 4374 West Ridge Rd in Rochester. This Toyota dealership has been very successful for 29 years and will be the 29th location for our group, as well as our fourth Toyota store. The updated, state-of-the-art facility is located right across the street from both our Ford and Chrysler Dodge Jeep Ram Fiat stores with several other dealer groups represented in the area as well. West Herr has represented Toyota since 2001 and we are proud to continue the tradition of representing one of the strongest brands in the industry. With this acquisition, West Herr will now have 6 dealership locations in the Rochester market.
Jay Jay Vanderstyne will continue as General Manager.
Scott Bieler, President & CEO of the West Herr Automotive Group expressed that "we are especially excited about the acquisition of Vanderstyne Toyota because of the manner in which this store was operated. The Vanderstyne Family is known throughout the Rochester area as people of integrity, with true compassion for their customers, employees and community. Our mission will be to carry on the tradition they established. Additionally we believe in the quality, design and innovation of the future Toyota products."
Jay Vanderstyne commented that "Joining the West Her family allows our customers and our team so many more opportunities. The West Herr Family is very respected and shares so many of our philosophies and culture; that we are confident that our customers, employees and community will all greatly benefit from this acquisition. We are very excited about the future, and look forward to serving our very loyal customers and growing our business to include many more!"
West Herr, which was founded in 1950, started as a single point Ford Dealership in Hamburg, New York, is the largest automotive group in New York State. With 29 locations in Erie, Niagara, Monroe and Ontario counties representing 23 franchises and 2,235 employees. In 2020, West Herr sold over 51,000 vehicles and serviced more than 450,000 vehicles. West Herr has received Business First of Buffalo's "Best Places to Work in WNY' award for 17 consecutive years and Better Business Bureau "Torch Award for Marketplace Ethics" eight times. The West Herr Automotive Group is dedicated to absolute excellence in customer service provided by honest, responsible, and respectful people. West Herr supports individual pride, company spirit, and community involvement.
Learn More: https://www.toyotaroc.com/