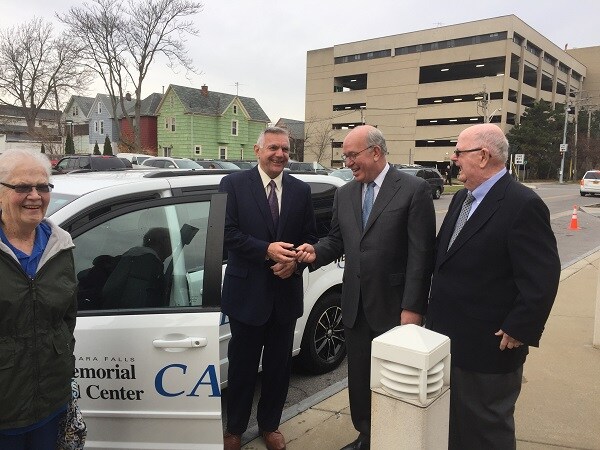 A donation we made today is brightening the holiday season for a popular patient transportation program at Niagara Falls Memorial Medical Center.
We presented Memorial with a 2017 Dodge Caravan. The seven-passenger vehicle will become an important part of Memorial's CARExpress service, which transports patients to and from medical appointments at Memorial and many of its outpatient sites.
"Niagara Falls Memorial Medical Center is a vital component to the region and West Herr is proud to support their efforts with a van donation," said West Herr Automotive President and CEO Scott Bieler. "The CARExpress team, including the volunteer drivers, deserve praise for their continued service to the community and we are grateful to play a small part in those efforts."
CARExpress vans provide a vital service to the community by helping ambulatory patients access care. The service is available Monday through Friday and is staffed by specially trained volunteer drivers and assistants.
"This very generous gift will ensure that patients who lack basic transportation will have access to the care they need," said Memorial President & CEO Joseph A. Ruffolo. "Many of those served by CARExpress are elderly, disabled or both and most have limited means. This new van will be a godsend to them."
On hand for today's presentation was James V. Glynn, chairman of the Maid of the Mist Corp. and a longtime generous supporter of the CARExpress program.
"The CARExpress has been blessed with wonderful sponsors through the years," said Memorial Volunteer Services Director Judy Villani. "We are grateful for them and for West Herr, which is well known across Western New York for its support of worthwhile organizations and charitable activities."