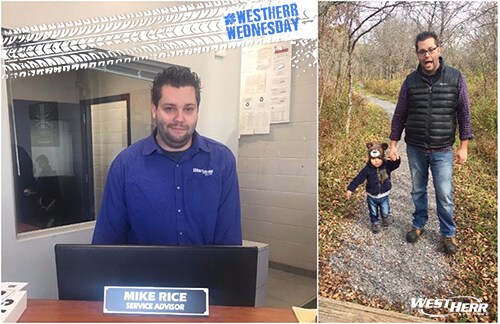 Mike Rice

, one of our incredible service advisors over at our Dodge store, is this week's West Herr Wednesday! It also happens to be his birthday, so we would like to wish him a very happy birthday! Mike got his start with us back in July of 2004 as a detailer at Chevy Hamburg. After moving around to a couple dealerships, Mike finally found his home in the Dodge service dept. about five years ago after making the switch to an advisor role. Mike says that working at a few of the locations during his time at West Herr has really helped him get to know a lot of great employees that work for the company.




Mike's favorite part of working for West Herr:

Having that customer interaction each day. The service department is always fast-paced, and there is always a different problem to solve. The company's values and great ethics truly allow employees to always do the right thing for the customers.




Outside of work, Mike enjoys fishing and working on cars; his lifelong love for cars is actually what really sparked his interest in the automotive industry. Mike was born and raised in the Buffalo area, and is a die-hard Buffalo sports fan, even when it's quite difficult to be! Mike also enjoys spending time with his wife of three years, Lindsay, and their adorable two-year-old son, Jack. They also have fur-baby, a three-year-old pitbull mix who is a bundle of energy.




We are grateful to have Mike in the West Herr family the past thirteen years, and thank him for all of his hard work throughout the years!