West Herr Wednesday: Peter Walsh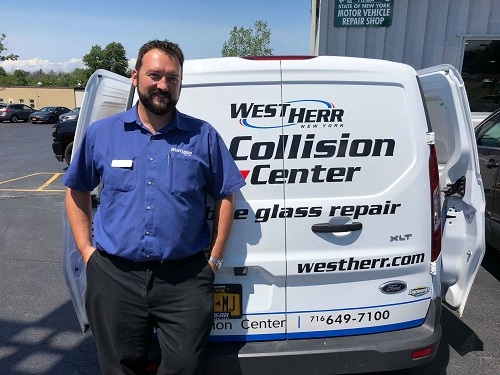 When your vehicle gets banged up, West Herr's Collision Shop makes sure everything looks as good as new. For this week's West Herr Wednesday, we got the lowdown on the guy helping run the ship… Collision Center South, Production Manager, Peter Walsh!
Peter grew up in a Boston, MA suburb called Saugus, which he explained is actually like a lot of WNY
"It's a small, hockey town a few miles outside the city. It's quiet and there's room. It's similar to here."
Growing up in New England, he developed his love for sports, especially hockey.
"People around here might not like it (he said laughing,) but I'm a Patriots fan and a Bruins fan. I even have a Bruins tattoo on my leg!"
While he now lives in Bills/Sabres territory, he proudly reps his hometown teams as any true fan would do.
When he was 14, Peter got in touch with his artistic side. He started painting and also exploring music.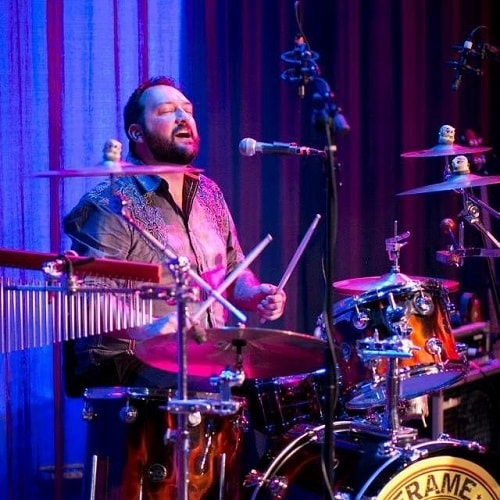 Music actually opened some doors for him, as he was able to tour with several bands and see most of the country.
Nowadays, Peter still plays the drums and actually makes his own snare drums.
On the painting side, Peter has a passion for dog portraits.
"It's actually how I won my wife, Lori, over. We met online and her birthday was a few weeks later. I painted her a picture of her pit bull and the rest was history."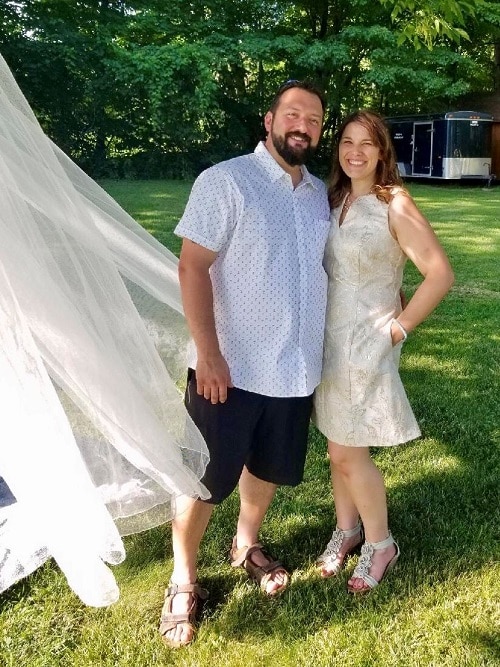 Lori actually grew up in the Southern Tier and moved to Boston after attending college at RIT. With Boston getting increasingly crowded/expensive, Peter and Laurie decided to look at making a new home in WNY, which is where West Herr entered the picture.
Peter was working for a Paint Distributor in Boston as a Paint Technician, but his wife knew Mike Walters (West Herr Collision Center Director,) which provided an introduction.
"We were at a family gathering and Mike said if I ever needed a job to let him know. Well sure enough when we decided to move to Buffalo, I did."
Peter's familiarity with paint and the industry made him a natural fit to join the collision team. Him and his wife finally found the right home in Hamburg after looking at over 60 different homes!
"It's a really nice, quiet neighborhood, that still has a lot to do. The culture and people are great. The food is also awesome… of course I love the wings."
Peter's favorite spots to grab wings are Duffs, Nine-Eleven Tavern & the Big Tree Inn.
When it comes to what Peter has enjoyed the most during his time at West Herr, it starts with how much the company does for its employees.
"I don't know many other companies that would hire Jay Leno or rent out the fair grounds to have a private picnic. A lot of companies don't do anything for their employees… at West Herr they always do something."
Looking into the future, Peter could certainly see himself working his way to an upper management position, but he also knows there will always be plenty to do in his current role.
"There's always options within the company. My current job isn't easy, but that's why I enjoy it. I like a challenge."
Peter's background as an artist has made him extremely meticulous. He believes in doing everything to the best of your ability, which he carries with him in his job at West Herr.
"I have a lot of the same morals as West Herr. I'm very detail oriented, which the company rewards. I also believe in treating people with respect and always being nice to the customer."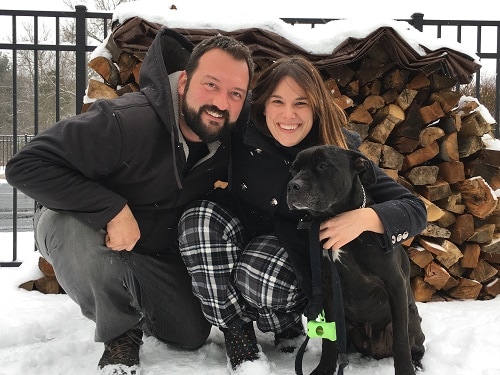 Peter truly enjoys working at West Herr and feels like it is now part of his family. He and his wife and their pit bull Stanley, have found a home in WNY, even if it means having to deal with Bills fans on a regular basis J