Help your car weather the WNY winter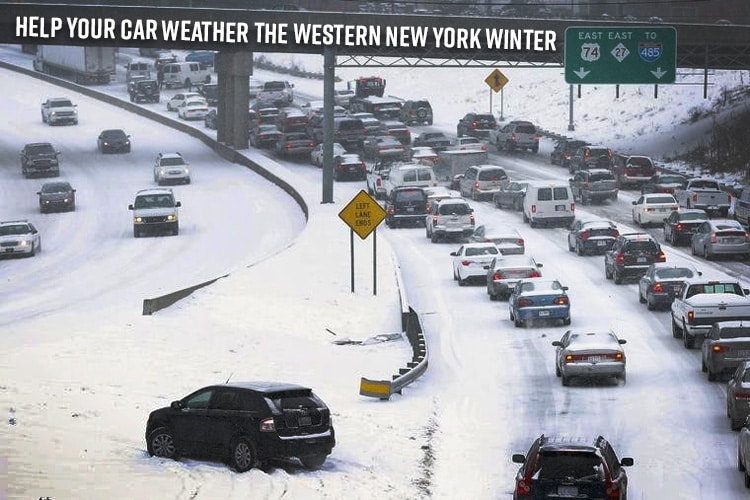 Buffalo winters are notorious for being both brutal and unpredictable. Between the freezing cold temperatures and salty, pothole-stricken roads, the winter months can wreak havoc on road conditions and vehicles alike. You – and your car – need to be prepared.
Follow these guidelines to winter-proof your car and keep it in peak condition:
Change to snow tires.
All-season tires might cut it if you live in the Carolinas, but are no match for the harsh WNY winters. Only snow tires are specifically designed with treads that will better grip the road, channel snow, cut through slush and prevent slide when braking.
Check your battery.
Like most of us, batteries also have a hard time starting up on frigid mornings. When your car is cold, it requires more power from the battery to get the engine going. Make sure your battery is in good working order by having it professionally checked at a service station or repair shop.
Carry a survival kit.
In the unfortunate case you should get stranded, the right supplies can literally be the difference between life and death. Always pack the following in your car, just in case:
Shovel
Sand or cat litter for traction
Flashlight
Water and snacks
Extra outerwear
First aid kit
Blanket or sleeping bag
Road flares
Cell phone adapter to plug into lighter
Clean your car.
Keeping your car clean in winter makes it last longer by preventing rust, especially underneath the vehicle. Road salt, snow and moisture are tough on your vehicle and once rust starts it's hard to stop. Regular washes in winter will extend the life of your car.
Keep your windshield clear.
Seeing out your windshield can prove nearly impossible in winter. Western New Yorkers may want to consider installing winter wiper blades, which help keep ice from freezing around the joints and between the bars.
Top off all fluids.
Regularly check windshield wiper fluid levels, coolant, brake and transmission fluid, and oil. If you have an older car, you might want to consider changing the weight of your oil, as cold temperatures tend to thicken oil and make starting more difficult.
Additional tricks:
Turn your air conditioning on along with your heater and defroster. Air conditioning does not necessarily mean cooling the air, it means removing the humidity out of the air. The act of taking humidity out of the air tends to chill air, but you can still heat the cabin to 80 degrees while air conditioning to stop your windows from fogging.
Use an old pair of socks on your windshield wipers to prevent them from freezing & sticking to your windshield overnight. Make sure to put the wipers back down once the socks are on.
Fill a sock with (clean) kitty litter and place it in your car. It will absorb moisture and prevent fog from ever happening.
Pour a solution of 1/3 part water and 2/3 parts rubbing alcohol into a spray bottle and spray onto your windshield for instant ice removal.
* SUVs with all wheel drive are a great choice for winter driving. Here are a few of our top picks: *
Jeep Grand Cherokee – the most awarded SUV that comes in seven trim levels.
GMC Yukon – a full-size SUV that's easily maneuverable and can seat up to eight people.
Nissan Rogue – a quiet, comfortable interior with plenty of available active safety assists.
Honda CR-V – this SUV has plenty of cargo space, high tech equipment and impressive fuel economy.
Subaru Forester – the roomy cabin, good fuel economy and standard all-wheel drive make this a fine choice for winter driving.
Toyota RAV4 – an abundance of head and legroom throughout the cabin and one of the largest cargo areas in its class make the RAV4 a solid choice.
Chevrolet Equinox – there is an abundance of advanced safety equipment and Chevrolet's Teen Driver reporting feature with spunky four cylinder turbo charged engines.
Ford Escape – features a 1.5L EcoBoost engine with 30 highway mpg standard on the SE & SEL models.
With 20 new vehicle brands and 2,000+ quality, pre-owned vehicles, West Herr will help you find the exact vehicle that will suit your current needs. West Herr also has 20+ service locations to help keep your vehicle in tip-top condition throughout the harsh winter months.
Schedule an appointment for service: www.westherr.com/service/schedule-service.htm
Check out our inventory: www.westherr.com/all-inventory/index.htm