West Herr Donates Shuttle Van to Ronald McDonald House Charities of WNY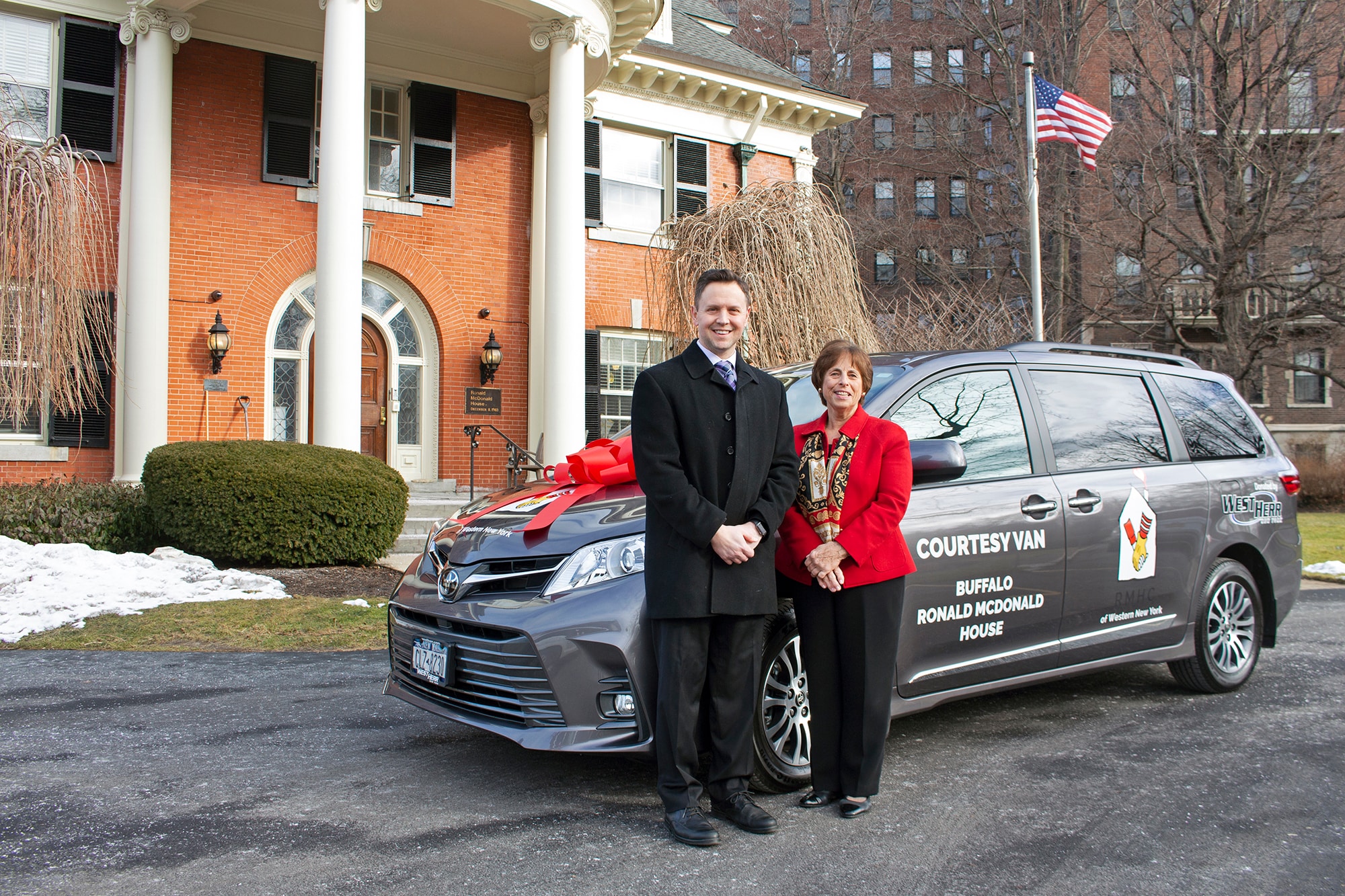 (Pictured above is Justin Rojek, General Manager of West Herr Toyota of Orchard Park, and Sally Vincent, Executive Director of Ronald McDonald House Charities of WNY)
Press Release from Ronald McDonald House Charities of WNY:
Buffalo, N.Y. (January 30, 2020) – Yesterday morning at an event held at the Buffalo Ronald McDonald House, Ronald McDonald House Charities of Western New York (RMHC of WNY) unveiled their new 2020 Toyota Sienna Courtesy Van. The van was donated by the West Herr Automotive, a group that has been a strong supporter of the local community for over 70 years.
"West Herr is proud to once again partner with Ronald McDonald House Charities of WNY, an organization that gives so much to the local community. We hope that this van helps provide a bit of comfort and ease getting around the area for those going through a very challenging and difficult time in their lives," says Scott Bieler, President and CEO of the West Herr Automotive Group.
Sally Vincent, Executive Director, Ronald McDonald House Charities of WNY added, "We are delighted and very grateful for our continuing partnership with West Herr. Our new van will be making multiple trips each day, shuttling our guest families to the local hospitals to be with their sick child as well as our guest patients to local hospitals for treatment and appointments. The courtesy van transportation is one of our services to provide families with some peace of mind during chaotic times."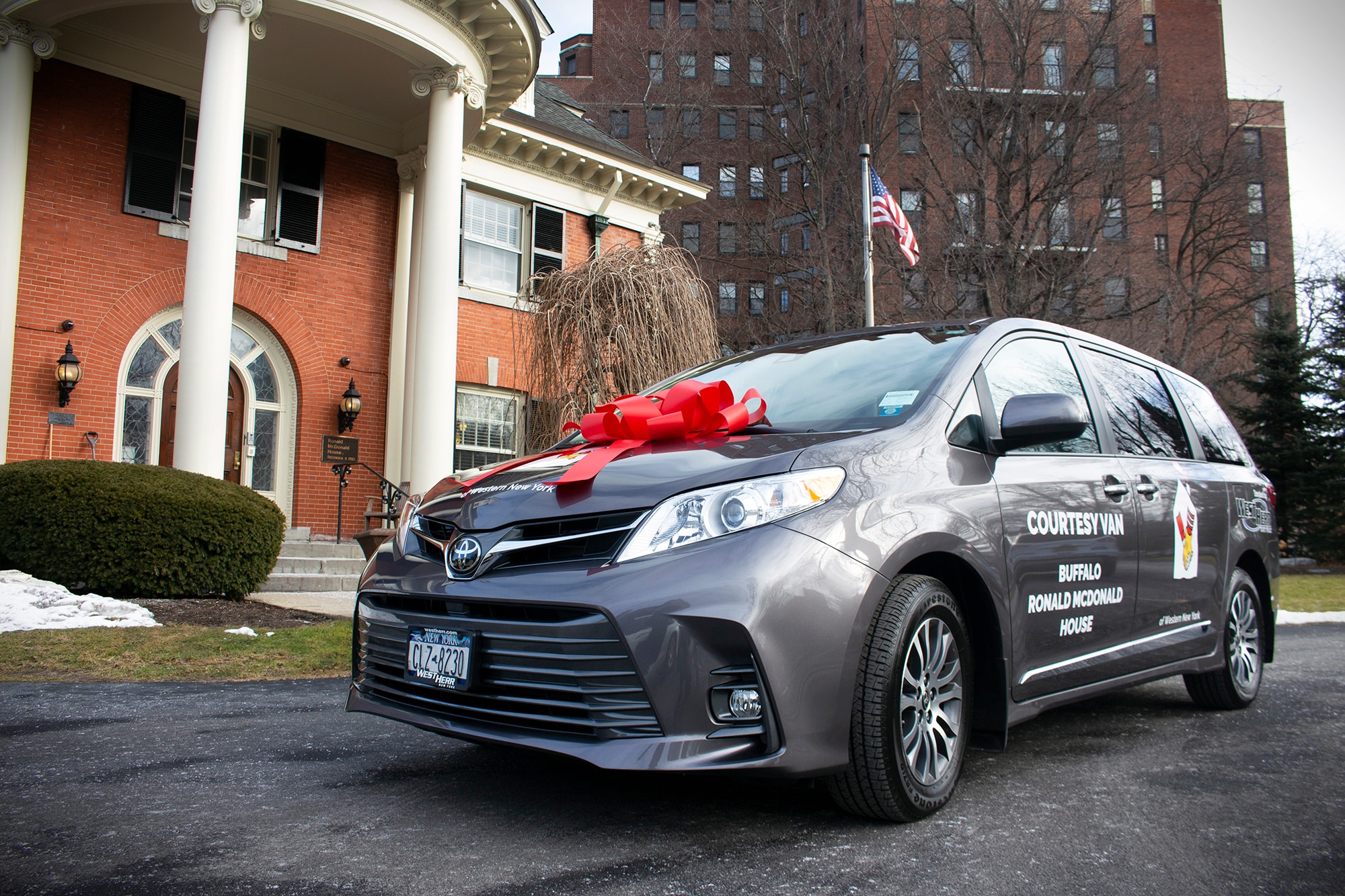 About Ronald McDonald House Charities of Western New York:
RMHC of WNY is a proud Chapter of the national and international network of Ronald McDonald House Charities. RMHC of WNY is operated by a local volunteer board of directors. RMHC of WNY is responsible for its own fundraising and program priorities and is 100% funded by generous donations from the local Western New York Community.
The mission of RMHC of WNY is to create and support programs that directly improve the health and well-being of children and their families. For over 35 years, our Buffalo Ronald McDonald House has served more than 21,000 families from Western New York, surrounding states and outside the USA. Last year alone, the House served families from 25 counties in New York State, 10 different states and 5 countries. Since opening in late 2017, our Family Lounge located in Oishei Children's Hospital, has served over 18,000 visits from both the local community and far away. For more information about RMHC of WNY and how you can help, please visit www.rmhcwny.org .
About West Herr Automotive Group:
West Herr, which was founded in 1950, started as a single point Ford Dealership in Hamburg, New York, is the largest automotive group in New York State. With 26 locations in Erie, Niagara, and Monroe counties representing 21 franchises and over 2,200 employees. In 2018, West Herr sold over 51,000 vehicles and serviced more than 425,000 vehicles. West Herr has received Business First of Buffalo's "Best Places to Work in WNY" award for fourteen consecutive years and the Better Business Bureau "Torch Award for Marketplace Ethics" seven times. The West Herr Automotive Group is dedicated to absolute excellence in customer service provided by honest, responsible, and respectful people. West Herr supports individual pride, company spirit, and community involvement.