Director of Sales Operations, Beth Hollis, participating in Business First's Mentoring Monday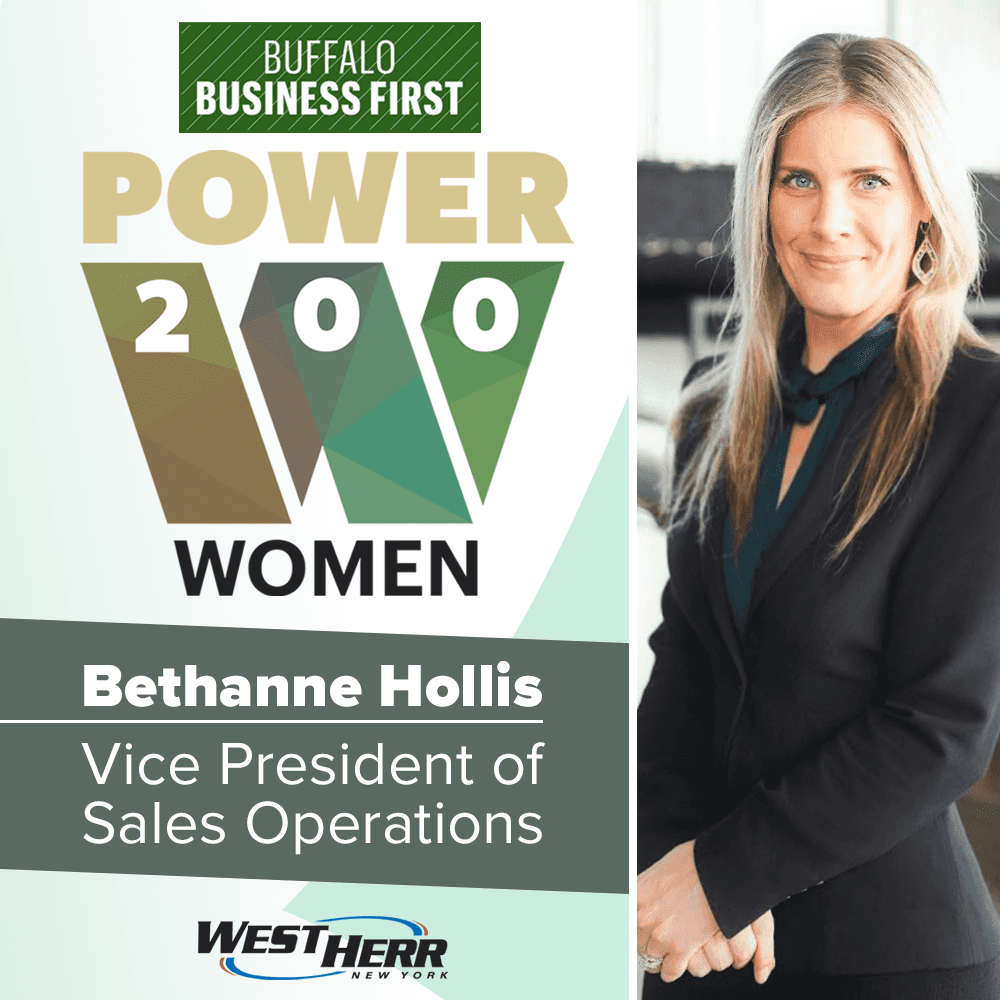 Get to know Beth's Journey:
I started at West Herr 20 years ago as a Finance Manager. In my first year, I knew this was the company I wanted to build a career with. Mainly because their core values – Teamwork, Respect, Urgency, Excellence, Integrity, Empathy, and Persistance were aligned with my own. West Herr operated their business, as we do today, with these 7 core values at the forefront of every decision. I was blessed with amazing mentors at every turn. John Macey, my first General Manger. Melissa Attea, my second. JC, my Finance Director, and Bill Loecher, one of our owners and the VP at the time. Their commitment to always do the right thing – no matter what, caring for our employees above all else, and wanting the customer to have the absolute best experience with West Herr – was contagious. I was fortunate enough to advance to General Manager of our Saturn store back in 2004, then given an extraordinary opportunity to open our Toyota Williamsville store in 2007. I was the General Manager there until 2014, where I was able to build an incredible team who accomplished amazing things together. Many of them are still there today and have perpetuated the awesome culture we started so many years ago.
In 2014 I was again blessed with another opportunity to become a Director on our Executive team. While Scott Bieler, our President and CEO, had also been a mentor throughout my career, being under his direct employ was the greatest gift I've received in my career. He is the true definition of servitude leadership. He embodies pure goodness, and along with our other three owners, inspires me, and so many others, to want to be and do better in this world. He sets the standard on how to operate a successful business, lead others and live your life. I started at West Herr because I knew they were honest and decent people. I stayed with West Herr because I have this amazing opportunity to now pay it forward with every employee, every customer, and our community and am committed to doing just that!
In 2019, myself, and another long-time employee Jay Galligan, were promoted to Vice President of Sales and Fixed Operations, respectively. Jay is yet another remarkable leader I get to learn from every day. Today, we have over 2,900 employees, an exceptional team of Directors and General Managers, and a first-class group of employees across all of our locations who are not only tremendous at their jobs, but are salt of the earth people! I am grateful more than anyone could ever know and that fuels me to give my best every day.
Be sure to stop by Buffalo Business First's Mentoring Monday Event on February 27th at Buffalo Riverworks, 7:30am – 10am!