Henderson Ford Acquired by West Herr Auto Group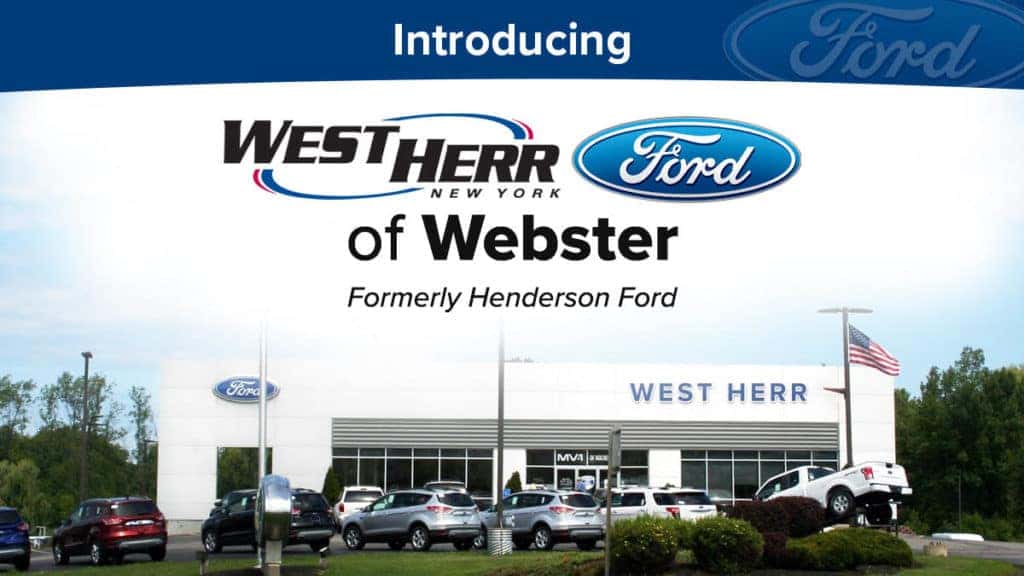 We are pleased to announce that West Herr has acquired Henderson Ford in Webster, New York owned by Randy Henderson.
On Wednesday, December 1, 2021, West Herr Ford of Webster will be open for business located at 810 Ridge Road in Webster. Henderson Ford has been in business since 2003.  This will be the 31st location for our group, as well as our fourth Ford dealership location. The updated "Trust Mark" Ford facility will have 60 employees and is projected to sell a combined total of 1,800 new and used vehicles per year. West Herr has represented Ford since 1950 and we are proud to continue the tradition of representing one of the strongest brands in the industry. With this acquisition, West Herr will now have 8 dealerships in the Rochester market.
Scott Bieler, President & CEO of the West Herr Automotive Group expressed that "We are proud to acquire Henderson Ford of Webster, and we look forward to carrying on the quality sales and service experience that Randy and his team provided to the community for many years. In bringing to the dealership our additional management talent and technology, dramatically larger new and used inventory, we feel we can grow the dealership and serve Webster and the surrounding communities on the foundation that Randy Henderson built."
Randy Henderson, President of Henderson Ford commented that "It's been a pleasure working with Scott Bieler and his very talented team at West Herr.  Out of the many dealers that expressed an interest in our business, West Herr came forward as the right fit for our staff and family with great values and integrity, and I believe will bring additional growth into the Webster and surrounding communities as well as opportunities for our staff.  I am very happy to have them as the new Ford Dealer in this market and pray God's blessings upon them all!"                                                                                     
West Herr, which was founded in 1950, started as a single point Ford Dealership in Hamburg, New York, and is the largest automotive group in New York State. Since 1950, West Herr has sold over 1,200,000 vehicles. With 31 locations in Erie, Niagara, Monroe and Ontario counties representing 23 franchises and 2,416employees.  In 2021, West Herr will sell nearly 60,000 vehicles and service more than 470,000vehicles.  West Herr has received Business First of Buffalo's "Best Places to Work in WNY" award for 17 consecutive years and the Better Business Bureau "Torch Award for Marketplace Ethics" 8 times. The West Herr Automotive Group is dedicated to absolute excellence in customer service provided by honest, responsible, and respectful people. West Herr supports individual pride, company spirit, and community involvement.