WEST HERR WEDNESDAY: John Nichols
For this week's West Herr Wednesday, we headed over to West Herr Chevrolet of Rochester to meet Sales Consultant, John Nichols. John is quickly approaching his one-year anniversary with West Herr this coming August.
John mentioned that before working in the automotive industry, he was a police officer in Georgia. He says that he was looking for a chance of pace and a career that was not as physically demanding. John had a few personal connections to West Herr decided to give it a shot, and he was glad he did!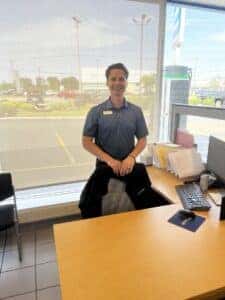 When asking John about his career change, he mentions he's had some not-so-great car buying experiences before and wanted to do his research before making the switch. "Everything I've heard it really seemed like West Herr was a stand up, ethical company. I knew it was something I wanted to be a part of," says John.
John wanted to touch on his past experiences and how they have helped shape who he is today. "My policing career is something I am very proud of, and I would not trade that experience for anything. It has developed me into the man I am today and the life skills I have learned have enhanced my sales career. I would not be able to communicate and serve people daily like I do without that experience."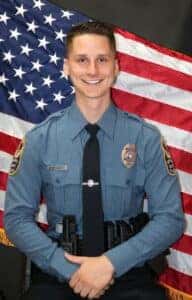 John mentions one of his favorite aspects of his job is the day-to-day comradery at the dealership. "We have a solid group here at our store and we all gel very well. We all work very hard, but at the same time we joke around and have fun," John says.
John wanted to acknowledge a fellow co-worker who has really helped show him the West Herr Way. "When I first started, I was Austin Kelly's Sales Assistant, he's very much a team player." John says whenever he needs help, Austin is always there to lend a hand.
He and Austin go back and forth poking fun at each other, and John is thankful to have a friend and co-worker like Austin!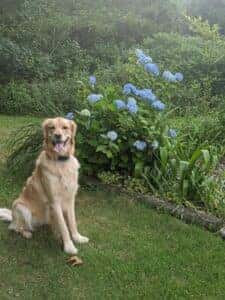 Another significant co-worker that John wanted to acknowledge is Alex Griffith. He mentions that Alex is a huge inspiration to him and is his go-to for selling advice!
When John is not working, he loves to spend quality time with his wife, Hannah! John & Hannah enjoy going golfing and hunting together. They also have a Golden Retriever named Rue!
While John loves selling, a personal goal he has for himself is to one day be in a management position. "I really love teaching. I am not one to take for granted tools & tips that I've learned from others, and I'd love to pass those down." John mentions.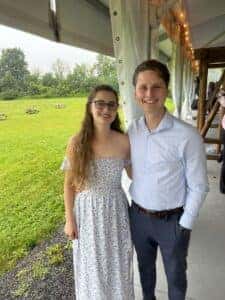 Another aspect that John loves about his job is the unknown of every interaction. He says no two car sales are the same.
"It's so rewarding being able to help someone out in a tough spot, whether they totaled their vehicle or maybe just lost their job. To be able to find them a car they want, it's amazing." John says. He says he loves to connect with his customers on a personal level and really get to know them.
We are so lucky to have John on our team, and we can't wait to see all that he accomplishes!