WEST HERR WEDNESDAY: Shane Szczesek
For this week's West Herr Wednesday, we headed over to West Herr Subaru of Orchard Park to sit down with Sales Consultant, Shane Szczesek. Shane has been with West Herr for about three months now!
Shane mentions he has been in sales all his life, but West Herr is his first dive into Automotive Sales. Prior to his current position, Shane spent 10 years of his life as a Director of Business Development in the Tech Industry. He started off his career in Retail Sales, which is where he first got his introduction to West Herr!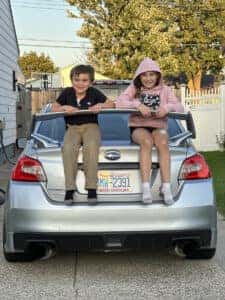 At his first place of employment, Shane met one of our Vice Presidents, Paul Hafner. They had exchanged contact information and would then keep in touch over the next twelve years. Shane had come into hard times when he was laid off from his consulting job but had reached out to Paul to see if there was an opportunity at West Herr. Shane had a few interviews, and the rest is history!
Shane mentions he felt confident in starting a career at West Herr because of the fun & positive culture. He notes from buying all his cars from West Herr, he could see what a great company it was, and he was excited to make the jump!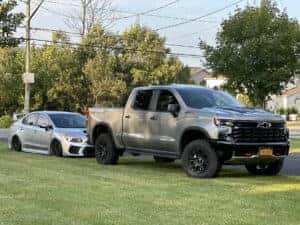 Shane also adds that he is so grateful for the support he has received from his co-workers & management in his time here. "From being in Tech, I worked at a lot of start-up companies, and I had to figure out what I needed to do by myself. The training and support at West Herr have just been awesome," he says.
Shane likes to stay busy outside of work! He says he and his family love to go to their campsite, near Ellicottville, NY. Shane and his wife, Ashley, have their hands full with their two kids, Paige & Tanner, and their puppies, Luna and Moose! While Shane was born and raised in Buffalo, he moved and lived in Charlotte, NC briefly, but eventually found his way back to Buffalo!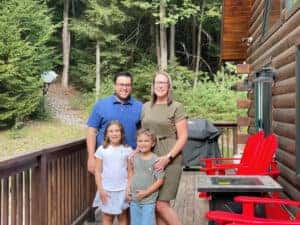 Shane wanted to point out a few significant co-workers who have helped pave the way for him. "My General Manager, Justin Morgante, has been awesome. Our Sales Manager, Martin Willnow, has been a wealth of knowledge, both have a lot of good tips & tricks for me," Shane says.
When thinking big picture, Shane has a lot of goals for himself at West Herr. He says after some time, he would love to see himself as a Finance Manager. "I still have a lot to learn, but I would like to grow with West Herr," he adds.
Shane mentions a memory that has stuck with him from one of his first sales. "The customer I was working with had a very old car, and was very overwhelmed by the process," he says. Shane made himself available to this customer, answering any questions she had, and made the process as easy as possible. She landed a new Subaru Forester, and when the process was complete, the customer gave Shane a hug with tears in her eyes! She was so thankful for how smooth the process was with Shane & West Herr, and Shane mentions that is a memory that will forever stick with him!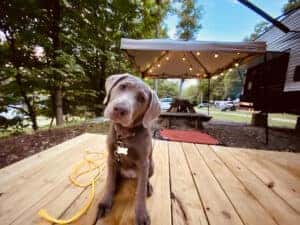 Shane has a lot of ambition and is excited to make a name for himself here at West Herr. We are so excited to see all that he accomplishes! Way to go, Shane!
Watch more of Shane's story here!